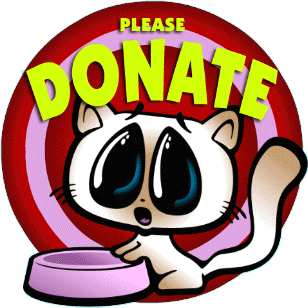 Adoption Fee Information...
We often get asked if our animals can be adopted free of charge. Whilst we appreciate many offers of a home are genuine, we cannot waive the adoption fee for a number of reasons.
​
Firstly, we are a volunteer run non for profit rescue and receive no government funding; so, rely solely on public donations to keep going. Our adoption fees mainly cover the practical costs of rescuing an animal, but the money also goes towards ensuring we can continue the work we do generally.
Secondly, giving away a 'free dog to good home' will inevitably attract the interest of unscrupulous people who gather free dogs to use as bait in fighting circles or bad breeders who use dogs on puppy farms with the sole intention of making money. This type of person does not have the dog's welfare at heart.
Finally, pets can be expensive! Any number of unknown incidents could incur sudden, expensive vet bills. For this reason, charging an adoption fee helps us feel comfortable than a new owner is in a position financially to support their pet should any unforeseeable circumstances arise.

The adoption fee we charge goes towards the following costs:

* Spaying & Neutering – the vast majority of cats and dogs we rescue have not yet received this treatment. Baring in mind the amount most vets charge for this our adoption fees are a bargain!

* Vaccinations – vaccinations are essential for all cats and dogs, it keeps them safe and disease free.

* Microchipping – Not only does microchipping ensure your pet will be returned safely to you should it ever be lost but it also ensures contact can be made with us if one of our rescue animal ever finds itself in an unfortunate position again. DOgs have to be chipped by La, but we do ask adopters to ensure they microchip their cats.

* Transport – We rescue animals from all over the country. It may seem petty to include transport costs as a component of our fee but it must be considered that as much time and effort as our volunteers can contribute, their pockets are not endlessly deep! Petrol can cost an awful lot in the current economical climate and we must consider this when re-homing one of our animals

* Food – Some animals are not ready to be re-homed immediately due to requiring further training, assessment or vet appointments. During this time someone has to pay the food bill!

* Vet treatment – Aside from the neutering, microchipping and vaccinations; some dogs also have other health issues that need treating before they can be re-homed. Take Bob as an example; when he was rescued he has a terrible skin condition with sores all over his body. His eyes were in such a terrible state we feared he would go blind. The rescue covers all these cost until our animals are restored to full health and can then go off to a new home. Vet fees have nearly doubled in 2019. But we are trying to keep adoption fee's to a minimum. We were hit by kitten flu in 2019 and the costs for the vets to treat and care for the kittens cost us 3,800.00.

* Kennel costs – Occasionally we will receive an emergency phone call and we have no space at the sanctuary or with foster carers to place and animal. In this circumstance, we use local kennels/catteries to house the animal until we can move them in permanently.

We are eternally grateful for the choice people make when deciding to rescue an animal instead of going for the option of a 'cute' puppy or kitten from a breeder, whose looks will eventually fade. So, many of our animals have come from an terrible background and really deserve the chance of security, love and appreciation in a new home so we urge everyone to consider this when we charge an adoption fee. We are a small rescue and everyone involved does fantastic work to help animals in need. Our supporters & volunteers are wonderful, giving up their time, effort, money and emotions in all situations.
Many thanks to you all.

Adoption for dog/puppies is Adoption of a pup and up to 6 months is: £350. 7 months to 6 years old is: £300+ from 7years up is £200. Kittens £180. 1-5 years 150.6 years and up 100.00. . Please check out vet prices and see how much it is to get .a male dog neutered, female dog neutered, cat neuter or spayed,, vaccinations Kittens to be vaccinated, worm and flea treated. It all adds up.