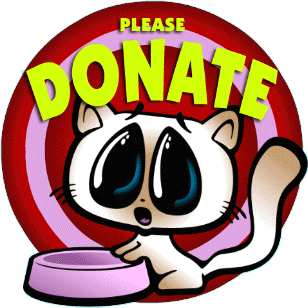 Elvis is looking for a foster carer with the view to adopt. ELvis is a striking black cat. He is great with children, loves wet and dry food.
He uses a litter tray. He has not settled in where he is, so he is lokking for a home where he can have time to settle in, maybe put a harness on him and take him for a walk in the garden. He does need to be vaccinated and neutered.
These 2 lovely senior cats are looking for adoption please.
Please meet Evie and Smokey.
Evie is 12 years old and once she gets used to you loves her cuddles and a fuss being made of her. She will follow you around the house and wants to be where you are. She is energetic and enjoys playing like a kitten.
Smokey is 14 years old and is a darling. She likes the quiet life but also enjoys cuddles on her own terms. She has a great appetite. Just loves her food.
Both are happy as house cats but they love to explore the garden and neighbourhood too. Evie does not like loud noises so a quiet environment is best for them both.
Both of them like to eat a mix of Applaws wet food and Iams Hairball Control dry kibble.
Both are spayed, and Chipped.