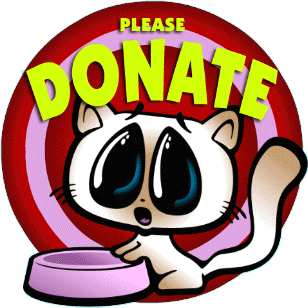 his handsome boy is Poppet & he is looking for a special new owner who will give him a chance!. Could that be you?...
Poppet loves to play, especially with his feather wand, he could play for hours and hours! He loves following you around the house and is always wanting to know what you're up to, he's very talkative too! He likes fish wet food pouches and dry food.
When he came into foster he hissed every time we walked into a room, didn't come out of his corner for weeks, but he is making progress all the time. There is still no human contact, but he no longer hisses at all, he sniffs you a lot, and is never aggressive when you try and touch him, he just runs away! He will sit by you and be very talkative, but just doesn't want to be touched. He is very skittish and runs off with quick movements, especially with your hands. This poor boy didn't have the best start but he is making so much progress, he just needs somebody with a quiet home and patience to work with him.
He is keen to get outdoors, so indoor & outdoor home would be ideal (once settled of course)
Uses the litter tray very well & clean in the home.
As you can see from the pictures he is just the cutest boy, with bundles of personality, he's really coming out of his shell. He just wants time to come round on his own terms.
He will be neutered, vaccinated, chipped, flea & wormed and come with 5 weeks insurance.
How about fostering this beauty.
This is Minnie. Minnie is 14 months of age, and she is Bengal x. She will be spayed and vaccinated whilst in foster care.
So this girl needs a pet free home or a home with a cat freindly dog. She is human friendly, but we suggest no young children unless supervised. She is not a cat to be picked up. She has a sensitive stomach so only Smilla wet & dry.
This girl needs a home with no stress, she needs to be able to settle in, and find her feet. She is very affectionate.
Looking for adoption
Nebula is a beautiful black and white tuxedo female cat, 3 years of age. She has been given a ckean bill of health, she is Spayed, vaccinated, flea & worm treated. Litter trained. Timid at first but then very friendly and loves licking hands! Loves attention and is quite a character. Absolute cuddle bug and lap cat when she trusts you, chatters and chirrups a lot and is quite playful. Will need to be the only pet in the house.