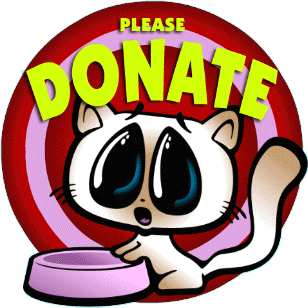 Jasper and Wilf, Jasper is 8 years old and wilf is 9 years of age. Both are neutered and chipped.
Jasper is black and white and Wilf is a black Panther. They have both been flea and worm treated, clean in the home. They are a bonded pair.
Jasper is 8 years old and he is a black and white male cat, he does Love fuss . Never been around children, so supervised introductions would be needed. He is neutered and chipped.
Wilf is a black cat and he is 9 years old. He does likes cats and he loves to eat wet and dry food also Wilf is neutered and chipped. He can be very demanding from his humans.
As you can see, they are just like bookends, and love each other very much.
Both of these lads are 3 years of age. Both are neutered, and vaccinated worm and flea treated.Jasper and Jayjay are their names.
We don't know much about their past but they came into foster together and love to play with each other, they also love to chase toys. They have not been outdoor cats while in foster but we believe they were outdoor cats before and have both shown an interest in going outside (although they have also been very happy just to curl up and snooze for most of the day!) It took the boys a little while to be confident in foster but both love to be stroked from head to toe and enjoy being brushed, it is on their terms though and they will come to you for fuss. Neither like being picked up and don't like loud noises or sudden movements but they will come and sit on you in the evening and will fall asleep after a bit of fuss! Both are very clean in the house and will eat anything! They are currently have dry food and wet food as a treat.