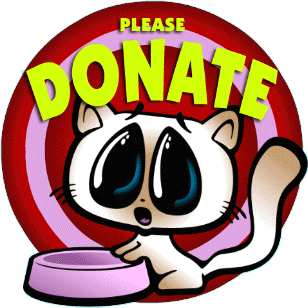 Ok, so Bear Is a 3 month old boy, he has long grey hair. He is fine with a friendly cat, but does not like dogs. He is fine with children that do not want to pick him up all the time, He Is litter trained. Loves his food and he is a typical kitten that likes loads of love and play time.
Sooty is 1 year old and he is Bears friend. Sooty is black and white, He is fine with bear and maybe another cat friendly cat. Ok with children, loves his food, just wants to be loved.
Both are neutered, worm and flea treated and will have vaccination course soon.
Bill is looking for foster with the view to adopt.
He's only 6 months old, He's friendly and affectionate, he's very cuddly when sleepy. Hes also very energetic and playful (especially morning and night) he will tear toilet roll to shreds in minutes if you let him
He has a few negative points but we know the right person will overlook ever one
He isn't keen on being restrained, he takes a little time to settle, and he doesn't like the cat carrier.
He is good with other friendly cats, has lived with dogs & older children but as always, slow introductions and supervision at all times.
Blue is 15 years old, he is a very handsome black and white cat. He is in good health for his age. He's very affectionate and chirps and follows you around - loves lots of head butts. He's not a lap cat. He has only ever been an indoor cat so that would need to continue. He eats whiskas dry food and has Harrington's wet food twice a day. He's litter trained. I'd recommend a home with no other pets or children (quiet home). He's a lovely boy and wishes to be in a nice retirement home! He is neutered chipped and vaccinated.
Ziggy. is a very beautiful part oriental cat. He is neutered, chipped, worm and flea treated. He will also be vaccinated before adoption.
Ziggy is very human friendly. He craves humand affection.
He does destroy his toys with his sharp claws but he loves to play and is very active. He loves jumping and climbing. His ideal home would be with an experienced owner with a home where his agility can be used ie out door play area or indoor wall cat platforms.
He loves food & licks his bowl clean, he is very food orientated. This may be ideal when it comes to training/behaviour.
He will eat anything and make out he has never been fed
He is full of energy and a great personality too.
we suggest he goes to a home with no young children.
​