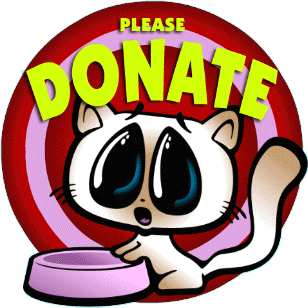 Over 10,000 homeless and abandoned animals each year find a new home through our group - could you help us?
Roxie's Rescue now has it's own PayPal account, whereby donations received go directly into the rescue bank account. Please click the piggy bank to donate via PayPal, alternatively please use the email address roxiesrescue1@gmail.com to donate manually on PayPal (Please remember to mark your donations as 'gift' to ensure we don't get charged a transaction fee-many thanks).​
You can also donate directly in Roxie's Rescue bank account by using the following details:

Bank details: Llyods Bank
account name :Roxies Rescue
Sort code: 77-15-15
Account number: 45590368
We do feel it can be unfair to ask only for financial donations so a 'wish list' has been set up for Roxie's Rescue, via the Amazon website. The wish list offers the option to buy food, toys and other necessary items for the animals staying with us. It's very simple to pay for any item on this list which is then delivered directly to one of our volunteers. Any donations received this way are always greatly appreciated and start as little as £1. Please follow the links below to view the 'wish list'.
​
​EVERY

PENNY

MAKES
A DIFFERENCE!
We would like to offer our sincere thanks and gratitude for all the donations and regular support we receive. No matter how large or small. Without the help of our wonderful supporters we could not continue the rescue work we do for all our animals. Thank you.